Good Evening Munchkins!
Today I thought I would write for you another fashion wishlist, but this one being much more Christmassy and themed around the festive period (always a fave of mine!). I think we can still order to be able to receive these things before the big day itself so if you spot anything you like, grab it whilst you can! And what other way to spend it than with one of my all-time favourite high street shops, New Look! All of these things were on the Women's Christmas Shop section of the New Look website at the time of writing (11/12/16).
Grey Home Alone Christmas Pyjama Set – £19.99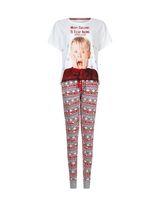 It had to be done really! Some readers may know my undying love for pyjamas and if they have fair-isle patterned leggings, a big slouchy top and a pre-pubescent Macaulay Culkin – I'm sold! In all seriousness, new pyjamas (let alone Christmas pyjamas!) make me feel so cosy and there's just something about them that makes me even more excited to go to bed at night (not that I need any help with that!). And big slouchy tops are amazing as I'm so small because in the summer I could get away with just wearing that and not the leggings. The red of it just makes it feel so Christmassy, as well! Just above the picture it reads 'Merry Christmas You Filthy Animal' which is my favourite quote from Home Alone and I actually have another little top that says that, actually! I'm just so in love with these pyjamas!
White Mince Pies Contrast Trim T-Shirt – £9.99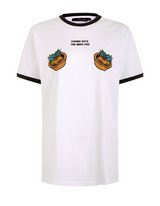 I know this is going to sound quite strange considering the festive freak I am, but I don't actually like anything too garish to wear around Christmas; my jumper this year's only got a penguin on! So this top would be perfect for me in the days surrounding Christmas as it has two mince pies on them (is it supposed to be a nipple joke?) and above it says 'kissing guys for mince pies' which I think is just a nice little sarcastic/sadistic saying, in whatever way you read it! It's also fairly plain and the writings relatively small so people afar won't be able to read it (which is sometimes a good thing!). I love the contrast trim trend, as well, and it's so casual – it's basically a t-shirt made for me!
Grey Coca Cola Print Christmas Jumper – £19.99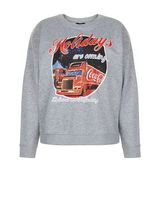 The next thing I found I fell in love with immediately! I think these Coca Cola jumpers came out a few years ago but I never got my hands on one, unfortunately. I do love me a good cosy jumper and one that's so simplistic like this is right up my alley. Also, we all know it's Christmas once the Coca Cola truck has come out! I feel like this is so Christmassy without being too in your face and would be perfect for Christmas Eve or the days before/after Christmas as a little nod towards it, but nothing too over the top. This would also be suited to those who are in between the extravagant Christmas lovers and those who are complete Scrooges.
Black Champagne Slogan Back Dressing Gown – £19.99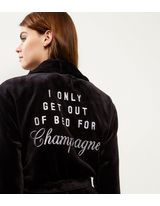 I swear to you, this dressing gown was made for me! I already have a dressing gown from New Look and they are literally the softest things ever and make you feel so cosy in the evening with a little hot chocolate and some unnecessary reality TV, so of course I need another one! This one is black (perfect already) and says on the back 'I only get out of bed for champagne'. Yes please, thank you very much! Me and my Mum constantly joke and talk about champagne just because so I think we would have a hard time fighting this one out! Also, from personal experiences, I know these dressing gowns are amazing!
And that is all I could find for this blog post! I hope you have enjoyed this blog post – I feel like I haven't written enough but I'd rather write this much on things I like as oppose to just lying to you about things I don't like. Let me know what you liked from this little selection or what new Christmas jumpers/other bits and bobs you've bought recently. I would love to hear about them!
Thank you so much for reading and I'll see you tomorrow,
Rachel xx