Good Evening Munchkins!
Today I will be uploading another little Wishlist for you, this time from Boohoo. I thought I hadn't done one in a couple of months and I love writing these so would do one for you now. It's also near enough winter now so I'm allowed to write another seasonal one! I will be writing a Christmas-themed one soon so this one is entirely for winter. I think I've spoken about Boohoo enough now for you guys to realise how much I love it and their clothes just, so you know I'm not showing you any old random bits for no reason. If I had the money, I would genuinely buy all of these things! All of these products were on the New In Clothing section at the time of writing (20/11/16).
Olivia Rib Knit Choker Swing Dress in Grey – £15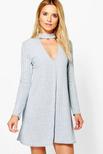 The first thing I'm loving from Boohoo is this little grey dress. I'm a bit funny with the choker trend – I'm not keen on the individual ones but they do sometimes look nice on dresses and tops and this is just one that stood out to me. I also like grey as an alternative to black (which this also comes in) and swing dresses are very me as they show off the nice bits but hide the not-so-nice bits. I love the neck line of this as it gives a little bit of booby showing but not too much and it's just so simplistic but the choker just amplifies it so much more. It also has a rib-textured material which I quite like in winter as it's quite warm and long-sleeves is always a bonus for me. Much love for this dress!
Abigail Utility Shacket – £20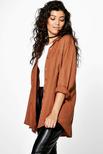 Anyone who knows me knows I absolutely live in my denim jacket during spring/summer as a little chuck on when there's a bit of a breeze over playsuits or tops and shorts or whatever. This is literally the exact same but in different colours and I've just fallen in love! This comes in a variety of colours (black, camel, grey, khaki, spice and nude) and the black and spice one, above, really stood out to me. This is quite price-y for what it is but it looks like a really nice quality jacket that I would wear a lot so I think I would earn it's price when wearing it. It comes with the sleeves rolled down which is fine because I roll the sleeves on my denim jacket anyway to make it a bit more unique and it also comes with some little buttons which can be done up or left loose and shown as simple detailing (which is what I would do). It's also over-sized which I love because I'm small anyway and it has a curved hem around the bum which I find flattering with my *slightly larger* thighs. I might actually spend any Christmas money on this if it's still in stock – I've fallen in love!
Frey Long Sleeved Scallop Plunge Skater Dress in Berry – £18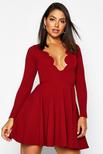 The third item I have found is this simple little long-sleeved skater dress in a warm, wine/berry-toned colour. I'm a sucker for a skater dress – I love how they fit me as they accentuate my small waist and big hips but hide my tummy and also suit me in terms of length and not being too long. I do love being warm, as well, so long-sleeves is the right way to go at this time of year! I've never seen this style of neckline before, either, and it really intrigued me but I thought it would be super complimentary. I've bought skater dresses from Boohoo before and they're always of a high quality so £18 doesn't break the bank too much. This is also available in a black and a teal.
Dottie Velvet Strappy Skater Dress in Berry – £18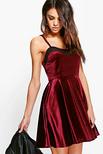 I think there may be a bit of a colour theme here! Like the choker trend, I'm a bit split on velvet; I think it can look nice if worn right but if it's worn with the wrong things it can just look not that great and that is a genuine fear for me! This is not a warm dress, granted, but you could always wear a jacket over it and the main features would still be seen. This is also a little skater dress in berry – I just think berry looks really nice with my hair colour and around this time of year and the reflex of the velvet in the light can look stunning. I really like the little black insert at the top of the neckline because it means I still have that little bit of darkness in there! I also prefer to have black straps because then I can wear a black bra with it and my boobs not look all saggy! Well it can't in a dress like that, can it? This is also available in a bottle green and black.
Boutique Ria All Over Sequin Cami Playsuit in Black  – £30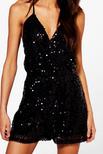 Finally, this playsuit. This isn't something I would usually go for but I thought I would still include it just to remember that, at some point, I had a tinge of confidence! This is of course in black (it's also available in a camel shade) but it has that little bit of excitement with the sequins. I do love a playsuit in summer and I think this could be dressed up quite nicely for a party and be a kind of novelty outfit. It is quite a lot of money for a novelty outfit and I'm not sure how you would wash it safely without the sequins coming off but I would give it a good go! I also think it would be a perfect opportunity to wear a red, metallic lip on an night out!
And there we have it! I hope you have enjoyed this blog post – I love window shopping online in my spare time so I hope this has been of some use to you. Let me know what you like from this little selection or what you like from Boohoo at the moment! Also, don't forget to let me know what you would like to see more of!
Thank you so much for reading and I'll see you Thursday,
Rachel xx