Good Evening Munchkins!
Today I would like to venture with you (sounds very exotic, doesn't it?) into the world of online shopping, one of my most favourite things. In the summer I did a blog post like this but with New Look bits, so if you would like to read that you can click HERE. I personally love online window shopping and looking at new trends for the new season (now it's officially autumn – lights, candles, action!). I'm sure I can't be the only one so today I will just be showing you a few bits I found on Boohoo that I don't quite have the money for right now but would love to purchase sometime in the future. All these products are from the New In section at the time of writing (24/09/16).
Aura Metallic Crepe Full Midi Skirt – £12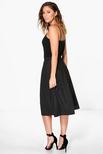 If you read my New Look blog post, you will know how much I love my midi skirts and this one excited me because, not only is it black, it also has little metallic shimmers in it! I wear black a lot and I feel like on nights out or for parties this will just jazz it up a little bit, but not so much that I'm wondering if people think I've just 'pitched up from Mars' (if you know what sketch comedy that's from, 59 points to you!). Something I find with Boohoo is you (or I, it is normally just I) look at something then think 'oh, that'll look good if I was a size 6', but I feel that midi skirts are so versatile and suit any size. Their sizes also suit me really nicely considering I'm the height of a Hobbit so I have trust in this, even if it isn't in the Petite section. I also think it's really good value for money! This is available in a sand/nude colour as well.
Gia Cold Shoulder Drape Shift Dress – £15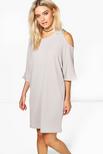 Another find that my eyes fell in love with was this little shift dress that I just couldn't resist! I have quite big boobs so sometimes shift dresses can hang out from there and make me look even bigger than I am, but they can also skimp my hips really nicely and just entirely cover my stomach, which I'm more than happy about! I also love the cold shoulder trend and have been dying to get my hands on a top or dress with that feature! If I ever want to change up from black, I will go for a grey (or 'Dove' as this is called), but there is a black and rusty colour also available in this dress. This is under the day dresses section but I would dress this up a little bit and wear it 'out out' – I think it would look perfect on a night out with a pair of black high heels! It just looks so comfortable as well (always a bonus!).
Petite Ellie Stripe Detail T-Shirt Dress – £12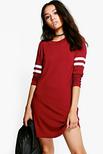 I found something in Petite that I actually like! I love the baseball top style and have done for years now, so when I saw this I fell in love! I actually really like this kind of dark wine red on me and feel like I could wear it with tights and a red lip to make it look a little bit more sophisticated, but it looks so cosy and so chic for autumn/winter. I also love the so-over-sized-it's-now-a-dress trend because I'm very short and it kind of emphasizes it in a good way. I just think it's so cute and it looks warm as well. It's one of the only 90's trends I like so I'm taking it with me through everything! This is available in a black and grey also.
Cally Crushed Tonal Velvet Flippy Shorts – £5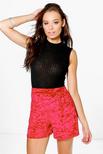 Finally, the cutest pair of shorts I ever did see! I love shorts in the summer and this little velvet pair caught my eye for nights out when temperature doesn't really affect me (or I decide it's okay to suffer with hypothermia!)! I have quite big thighs so the 'flippy' style suits me and makes me feel comfortable and more confident in myself. I think for a night out (I'm clearly going on a lot of nights out!) with a little black top or bodysuit and a pair of heels, these could look gorgeous! I'm also the biggest fan of coral so obviously this had to be my colour of choice, though grey and black were available as well. I'm not too sure on velvet but it feels really nice and that's enough for me to go by! So affordable, as well!
And there we have it! I'm sorry this is quite a short wishlist – my WiFi decided to just stop halfway through! I hope you enjoyed this blog post; I love writing these so let me know if you would like to see anymore and if so, from which shops. Let me know what trends you are loving at the moment or what pieces you would like for yourself!
Thank you so much for reading and I'll see you soon,
Rachel xx